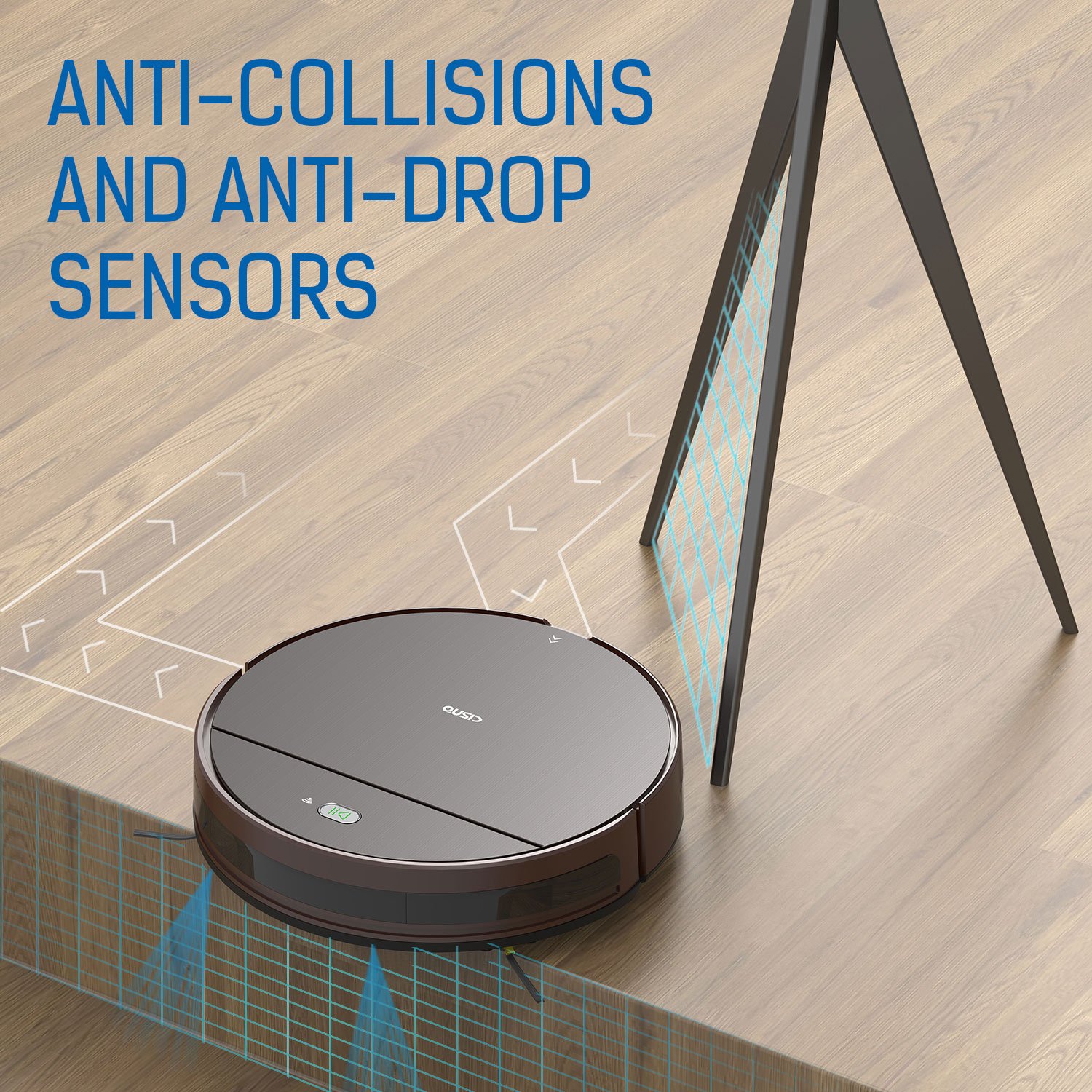 Cisno Robotic Vacuum Cleaner TAB-QT560Z
---
For OEM, B2B bulk orders, please contact its factory directly via: 

sales@computerusb.com
---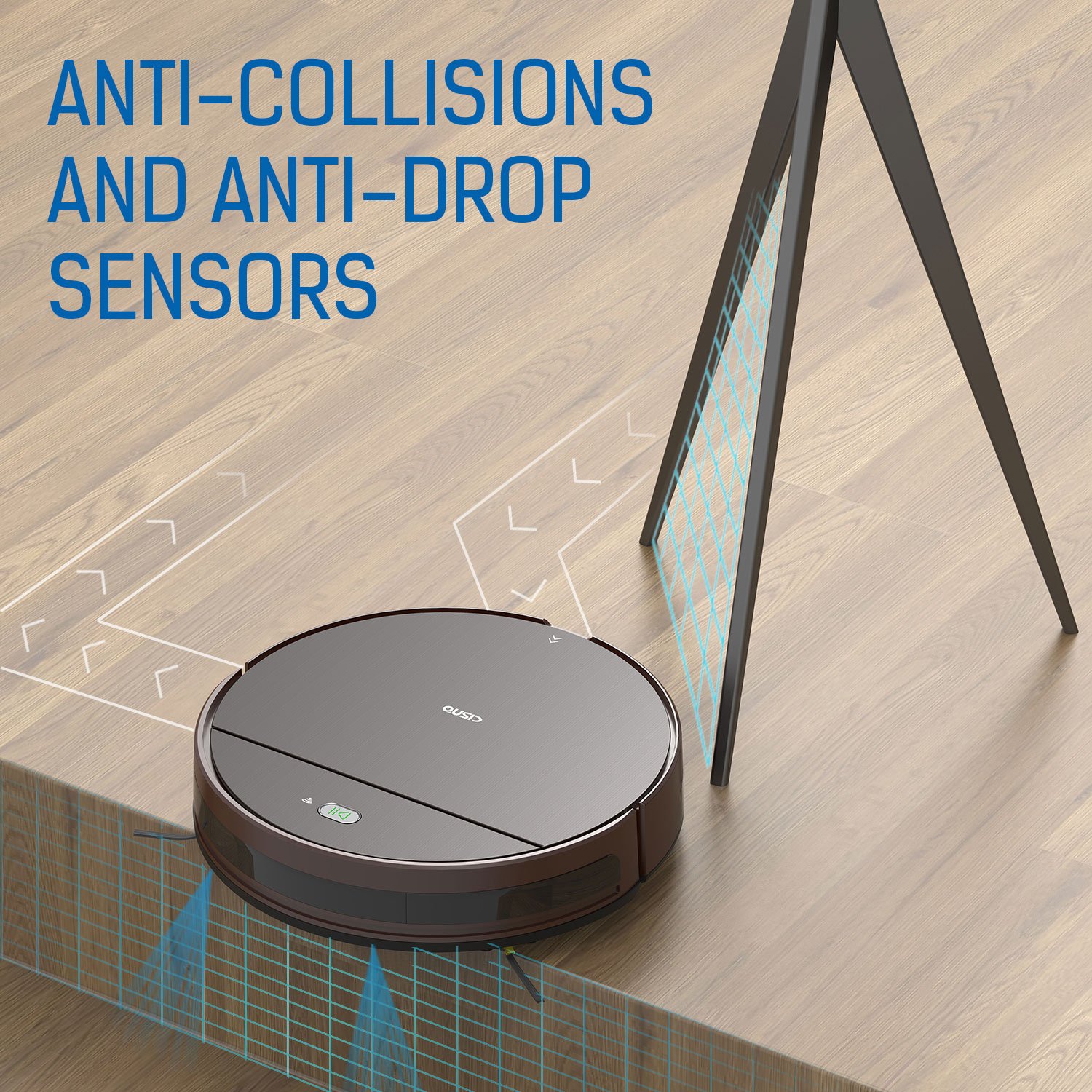 Cisno Robotic Vacuum Cleaner TAB-QT560Z
CISNO Robot Vacuum Cleaner with Mopping System, Robotic Vacuum with Wi-Fi Connectivity, Works with Alexa & Google Home, Powerful Suction, Slim & Quiet, Good for Pet Hair, Thin Carpets and Hard Floors
* Multiple Operation Methods– It works with Alexa and Google home and it also can be controlled by Smart phones as well as a physical remote controller(included).
* Intelligent – It has four cleaning modes(smart cleaning, edge cleaning, spot cleaning & single room cleaning) and features 32 groups of sensors to navigate and prevent falling from the staircase and also detect obstacles in front of it.
* Clean Thoroughly – Powerful 1300Pa brushless motor picks up fur, hair and dust, debris easily such as cat litter and you can also adjust the suction level(quiet or strong) by smart phone or remote controller.
* High Capacity Li-ion Battery – Delivers up to 100 minutes to thoroughly clean 1000 sf easily per charge and it can be best used on hardwood, laminate, tiles, or on light-colored, medium-pile carpeted floors.
* Sweeping Vacuuming & Mopping – It is equipped with a 600ml large dustbin and a 180ml water tank with a microfiber pad that cleans up spilt juice, milk and other liquid.
Cisno Robotic Vacuum Cleaner,TAB-QT560Z,Pet Hair Care,Cisno Robot Vacuum Cleaner,Cisno offical website,Cisno brand OEM factory,floor cleaner,floor cleaning robot,floor vacuum robot,floor vacuum cleaner,Smart Home Appliance
———-
Aspirador de pó robótico Cisno TAB-QT560Z
Aspirador Robô CISNO com Sistema Mopping, Aspirador Robótico com Conectividade Wi-Fi, Funciona com o Alexa & Google Home, Sucção Poderosa, Fino e Tranquilo, Bom para Pêlos de Animais de Estimação, Tapetes Fino e Chão Duro
* Múltiplos métodos de operação – Funciona com o Alexa e o Google home e também pode ser controlado por telefones inteligentes, bem como por um controlador remoto físico (incluído).
* Inteligente – Possui quatro modos de limpeza (limpeza inteligente, limpeza de bordas, limpeza de manchas e limpeza de ambientes individuais) e possui 32 grupos de sensores para navegar e evitar a queda da escada e também detectar obstáculos à sua frente.
* Limpar completamente – Poderoso motor brushless 1300Pa pega pêlos, cabelos e poeira, detritos facilmente, como a maca de gato e você também pode ajustar o nível de sucção (silencioso ou forte) por telefone inteligente ou controle remoto.
* Bateria Li-ion de Alta Capacidade – Oferece até 100 minutos para limpar completamente 1000 sf facilmente por carga e pode ser melhor usado em madeira, laminado, ladrilhos ou em pisos alcatifados de cor clara e média pilha.
* Varrer e limpar varrendo – É equipado com um grande caixote do lixo de 600ml e um tanque de água de 180ml com uma almofada de microfibra que limpa o suco derramado, leite e outros líquidos.
Aspirador de pó robótico Cisno, TAB-QT560Z, Cuidados com os pêlos de animais, Aspirador robô Cisno, Site oficial Cisno, Fábrica OEM Cisno, Limpador de piso, Robô de limpeza de piso, Aspirador de chão, Aspirador de chão, Smart Home Appliance
---
For OEM, B2B bulk orders, please contact its factory directly via: 

sales@computerusb.com
---