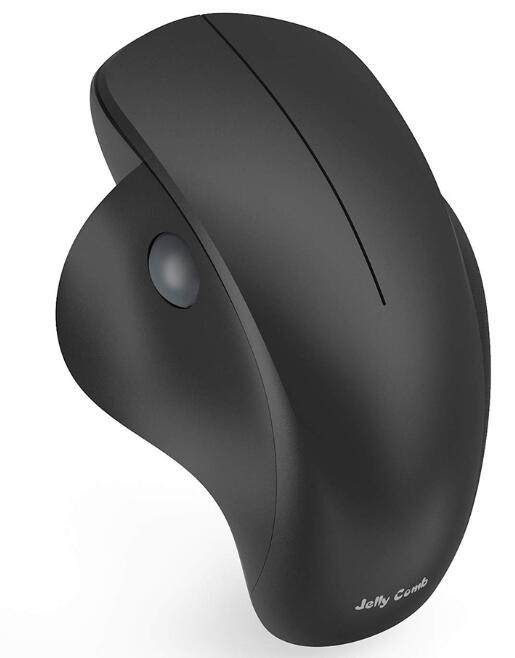 Jelly Comb Ergonomic Wireless Vertical Mouse
---
For OEM, B2B bulk orders, please contact its factory directly via: 

sales@computerusb.com
---
Jelly Comb Ergonomic Wireless Vertical Mouse
Jelly Comb 2.4GHz Wireless Mouse Silent Click Mute Mice Ergonomic Mouse for Computer Laptop PC Desktop Notebook Vertical Mause
【ERGONOMIC DESIGN】:
This Jelly Comb Ergonomic Wireless Mouse keeps your wrists and arms in a relaxed, neutral position. Arm neutral-Alleviates pressure in wrist joint and reduces risk of cramping. The size and shape fit for most hands to easily reach the mouse's buttons.
Dimension: 4.54*3.03*1.85in
【Silent Click Design】:
Compared with traditional mouse, this wirless mouse is silent Buttons desgin , which is very good for using at home at midnight.
【RELIABLE 2.4GHz WIRELESS CONNECTION】:
This wireless mouse uses 2.4Ghz USB Dongle with powerful and reliable connection. Supports Plug and Play✚10M operation distance.
〖USB Dongel is storaged under battery cover〗
【QUIET and POWER SAVING】:
This mouse will auto sleep after 15-20 minutes inactivity for power saving and could be waken up by any click. 1AA battery last for 3month working time.
Jelly Comb Brand Official website,Jelly comb vertical mouse,JellyComb mouse,wireless vertical mouse
———–
Ratón vertical inalámbrico ergonómico de peine de jalea
Jelly Comb 2.4GHz Ratón inalámbrico Ratón silencioso Mute Ratones Ratón ergonómico para computadora portátil PC Computadora portátil de escritorio Vertical Mause
【DISEÑO ERGONOMICO】:
Este ratón inalámbrico ergonómico Jelly Comb mantiene sus muñecas y brazos en una posición neutral y relajada. Brazo neutral: alivia la presión en la articulación de la muñeca y reduce el riesgo de calambres. El tamaño y la forma se adaptan a la mayoría de las manos para alcanzar fácilmente los botones del mouse.
Dimensión: 4.54 * 3.03 * 1.85in
【Diseño de clic silencioso】:
Comparado con el mouse tradicional, este mouse inalámbrico tiene un diseño silencioso de los botones, que es muy bueno para usar en casa a medianoche.
【CONEXIÓN INALÁMBRICA CONFIABLE DE 2.4GHz:
Este mouse inalámbrico utiliza un USB Dongle de 2.4GHz con una conexión potente y confiable. Soporta Plug and Play✚10M de distancia de operación.
〖USB Dongel está almacenado debajo de la tapa de la batería〗
【SILENCIOSO Y AHORRO DE ENERGÍA:
Este mouse se apagará automáticamente después de 15-20 minutos de inactividad para ahorrar energía y podría activarse con cualquier clic. La batería 1AA dura 3 meses de tiempo de trabajo.
Sitio web oficial de Jelly Comb Brand, ratón vertical Jelly comb, ratón JellyComb, ratón inalámbrico inalámbrico
---
For OEM, B2B bulk orders, please contact its factory directly via: 

sales@computerusb.com
---