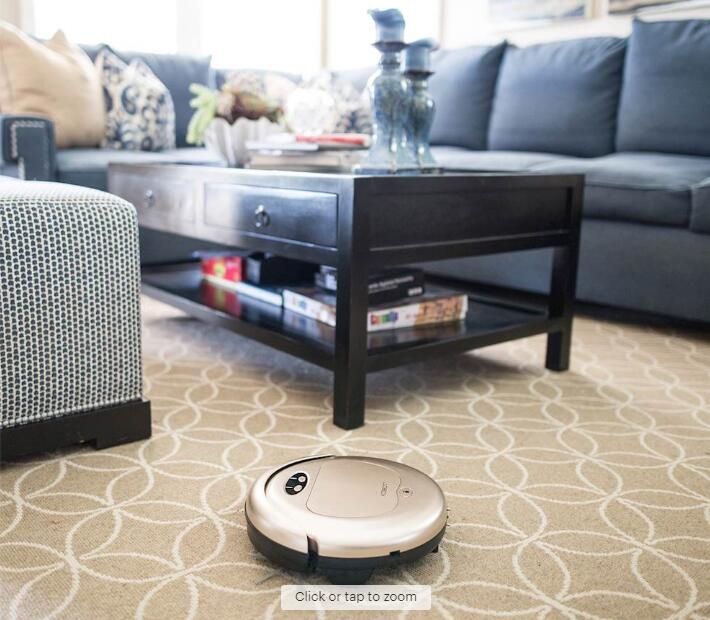 KOBOT RV351 Self-Charging Robot Vacuum Cleaner
---
For OEM, B2B bulk orders, please contact its factory directly via: 

sales@computerusb.com
---
KOBOT RV351 Self-Charging Robot Vacuum Cleaner
Keep floors tidy with this Techko Kobot multi-surface robot. Its scheduling feature lets you set cycles in advance, and the dual brushes clean hard-to-reach corners. This Techko Kobot multi-surface robot can climb onto area rugs, and it also mops up wet messes, eliminating the need for that heavy mop bucket.
Keeps carpets and hard floors looking great
Care for surfaces of all types with flexible cleaning options.
Bagless technology
Saves time and energy with no bags to buy or replace.
Automatic docking and recharging
After your floors are clean, the robot returns to the docking station to refuel.
Rechargeable battery
Provides ample cleaning time on a full charge.
Lightweight design
Helps you transport the vacuum from room to room and floor to floor.
Side brush
Enables extended cleaning near walls and in tight areas.
Cream color
Adds a sleek, stylish look.
KOBOT RV351 Robot Vacuum,Kobot offical website,Kobot OEM Factory,Kobot OEM Manufacturer,Floor Vacuum Cleaner,Home Appliances,Robot Vacuums,The best Robot Vacuum,The Cheapest Robot Vacuum,2019 New Design Robot Vacuum
————
KOBOT RV351 Selbstladender Roboter-Staubsauger
Halten Sie den Boden mit diesem Techko Kobot Multi-Surface-Roboter aufgeräumt. Mit der Planungsfunktion können Sie vorab Zyklen einstellen, und die Doppelbürsten reinigen schwer zugängliche Ecken. Dieser Techko Kobot-Mehrflächenroboter kann auf Flickenteppiche klettern und nasse Unordnung aufsaugen, so dass dieser schwere Moppeimer nicht erforderlich ist.
Hält Teppiche und harte Böden großartig
Pflege von Oberflächen aller Art mit flexiblen Reinigungsmöglichkeiten.
Bagless-Technologie
Spart Zeit und Energie, wenn Sie keine Taschen kaufen oder ersetzen müssen.
Automatisches Andocken und Aufladen
Nachdem Ihre Böden sauber sind, kehrt der Roboter zum Auftanken zur Dockingstation zurück.
Wiederaufladbare Batterie
Bietet ausreichend Reinigungszeit bei voller Ladung.
Leichtes Design
Hilft Ihnen, das Vakuum von Raum zu Raum und von Boden zu Boden zu transportieren.
Seitenbürste
Ermöglicht eine erweiterte Reinigung in der Nähe von Wänden und in engen Bereichen.
Creme farben
Fügt einen schlanken, stilvollen Look hinzu.
KOBOT RV351 Robot Vacuum, Offizielle Kobot-Website, Kobot OEM Factory, Kobot OEM-Hersteller, Bodenstaubsauger, Haushaltsgeräte, Robot Vacuums, Der beste Robot Vacuum, Der günstigste Robot Vacuum, 2019 Neues Design Robot Vacuum
---
For OEM, B2B bulk orders, please contact its factory directly via: 

sales@computerusb.com
---